The Mass Update Scheduling School feature allows users to change the Scheduling School and/or Scheduling Grade for students who are exceptions to the Feeder Patterns, such as retentions, students attending other schools, etc.
Filter Options
Go to System.
Select Scheduling.
Mass Update Scheduling options by default on the Filter Options tab.
Use the Mass Update Scheduling School option (default option).
Utilize the filters (Current Grade, etc.) to narrow the list of students that will be returned on the Select Students tab.
Groups can also narrow down students. Student Groups allow users to easily manage the Feeder Pattern exceptions. Create a Group for each distinct Scheduling School/Scheduling Grade exception, such as "Grade 1 retentions, same building" or "Grade 1 retentions, building ABC" (for students being retained in another building). Assign the needed students to the applicable Group for each Feeder Pattern exception.
Select Next to make choose students.
Select Students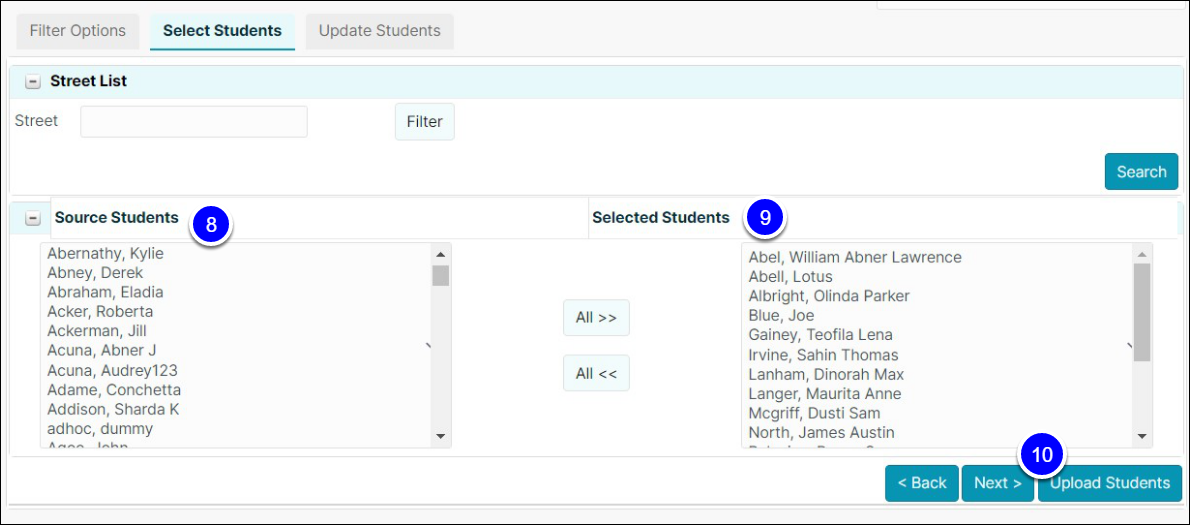 Students that meet the search criteria on the previous page appear in the Source Students section.
Students selected from Source Students move to the Selected Students side.
Select Next to continue.
Update Students

Select the appropriate Scheduling School and Scheduling Grade.
Select Submit to set the Scheduling School and Grade for the selected students.
To remove the assigned Scheduling School and Scheduling Grade for students in the district's highest grade level, leave the Scheduling School as "Select" and the Scheduling Grade blank.