If a student is transferring to another school WITHIN the same district. This procedure is used anytime the district is still responsible to supervise the student's academic progress, such as when a district places a Special Education student in a school specifically designed to accommodate the student's needs. In these cases, the home district typically compensates the new school for tuition
Where to Start
Go to Registration.
Select Students.
Use the filters as needed and select Search to find students.
Select the radio button to the left of the student to be transferred.
Select Transfer.
Transfer Within District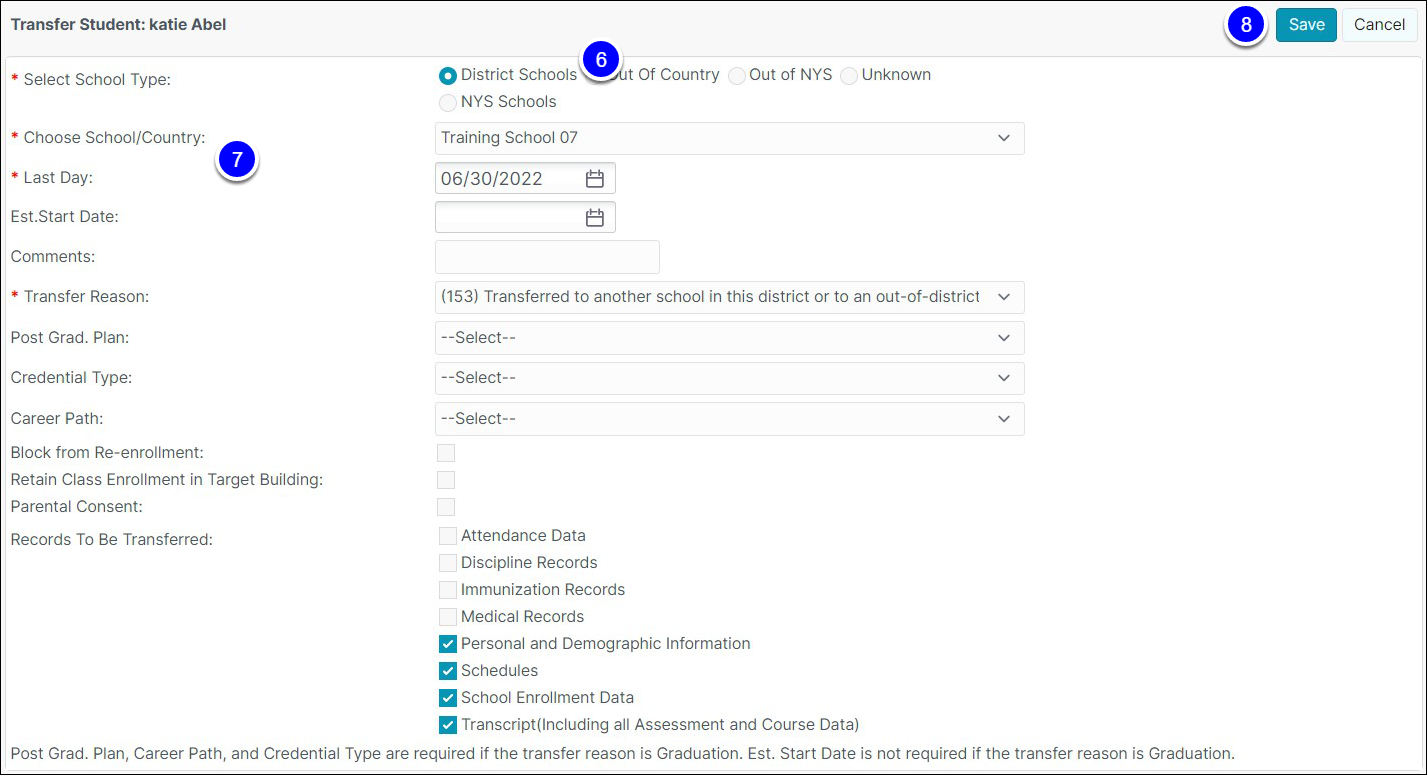 Select District Schools for within district transfer. Use the Choose School dropdown menu to choose a school within the district.
Fill out the required fields: Last Day and Transfer Reason. Fill in additional fields as needed:

When transferring students within the district, it is critical that the Est. Start Date is set to a date AFTER the date established as the Last Day
Transfer Reason will typically be "Transferred to Another School in This District or to an Out-of-District Placement." For students transferring to a different program in the same BEDS location, use "Transfer to a Different Program within the Same Building".
Block from Re-enrollment will allow a school to restrict re-enrollment for any student that may
have been expelled or who left school for disciplinary reasons
For dual-enrolled students, Retain Class Enrollment in Target Building allows classes in the school to which the student is transferring to be retained, which maintains grades and attendance for those classes. Classes in the school from which the student is transferring are dropped, as usual.
Check Parental Consent if the parent/guardian has given permission for the district to send additional data (Attendance Data, Discipline Records, Immunization Records, and/or Medical Records) with the transferred student's record. Check the additional Records To Be Transferred.

Select Save to save the transfer information. The following message will appear: Student transferred successfully. Any attendance records outside of student's enrollment record will be cleaned up via nightly job.