The Review Application Status screen provides the ability to compare the application data with existing data in eSchoolData for each of the application tabs. This lesson provides a overview of reviewing applications.
Where to Start

Go to Registration.
Select Online Application.
Filter for students as needed and select Search.
Select the Review to review the application information, and to act on New, Pending or On Hold
applications.
Review Application Overview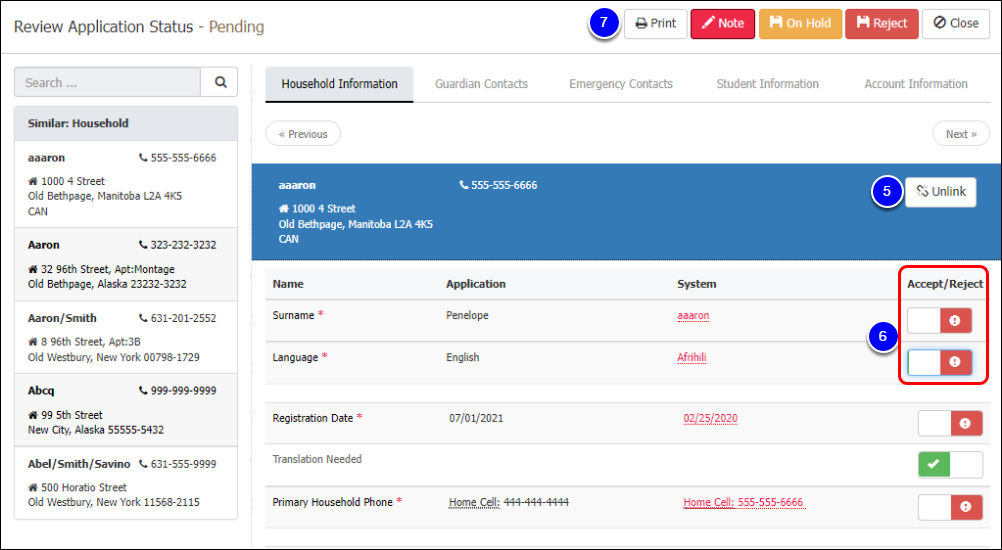 When a potential match is selected, the match is displayed highlighted in blue at the top of the
Compare screen, and the System column populates with the applicable data. If the district
determines that the selected potential match is not applicable, select another potential match to
select it, or click Unlink if no other potential match will be selected.
Districts can Reject specific application data (default is Accept, see side note), if the application
data does not match the system data for the selected potential match, and the district is sure
that the system data is correct.
From any tab, users can Print the application, add a Note (see Add Note, below), place the
application On Hold, Reject the application, or Close the application without taking any action. From the Account Information tab, the user can also Save or Accept the application.