The Course Request Group tool allows users to assign multiple course requests to students in a single transaction. Selecting a Course Group on a course request entry screen allows users to enter one request for all of the courses within the group, saving time and reducing errors. This lesson guides users through creating a Course Request Group.
Where to Start

Go to System.
Select Schedule.
Choose Course Request Groups.
Navigate Course Groups

Update the Scheduling Year as needed.

The

Course Groups

section is divided into three parts. The

Group Name

list, on the left, displays the existing Course Groups.

The Course list, on the right, displays the Courses in the selected Course Group.
The Selected Course Detail section, at the bottom, displays the Course Number and Course Name of the selected Course in the selected Course Group.
The New, Delete, Edit buttons apply to the Course Groups, while the Delete, Move Up, Move Down buttons apply to the Courses in the selected Course Group.
New Course Group
After selecting New: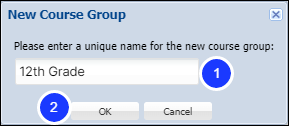 Enter a unique Name for the group.
Select OK to add it to the table.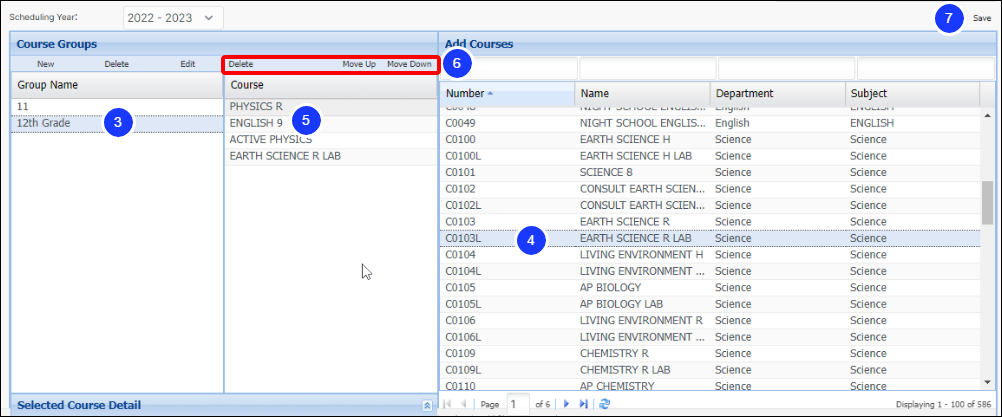 Select the new Course Group name to begin associating courses to the group.
Choose a course from the Add Courses area as they pertain to the group.
Selected Courses appear under the Course heading.
Use the Delete, Move Up, and Move Down options to arrange the order of Courses within the group.
Course Groups

do NOT automatically save. Users MUST select

Save

to save any and all changes.