Minute Block Periods (also known as Instructional Blocks) are designed for use when a school needs flexible scheduling instead of defined start and end times for classes. The document below defines Minute Block Periods and outlines where to set them up.
What is a Minute Block?
Minute Block Periods provide master schedulers with the flexibility to define the amount of time a class is taught, rather than the specific time that the curriculum is delivered. When periods are designated as Minute Blocks, they have a defined length without defined Start and End Times, and are outside the Start/End Time Periods of the school day.
Schools have the option to define Bell-time Periods with specific Start/End Times for scheduling lunches and special-area classes such as Music and Art, and define Minute Block Periods for scheduling core courses such as English Language Arts and Mathematics. This simplifies both elementary scheduling and the state reporting process, and allows classroom teachers the flexibility to provide core course instruction whenever they desire during the day.
When classes are associated with a Minute Block, teachers using Teacher Connect Roster will have the ability to modify potential instructional minutes and utilize the Non-Attendance status.
Create Minute Blocks Overview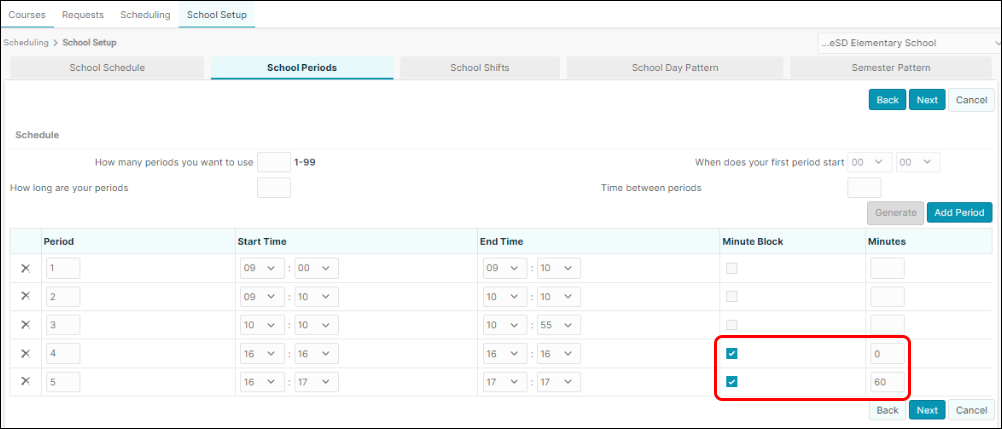 Minute Blocks are added when completing School Setup on the School Periods tab. Select the checkbox for periods that are Minute Blocks and enter the number of minutes for each Minute Block. Minute Blocks must be added to the end of the day and cannot appear in the throughout the day.
For more details, visit School Setup for the entire process.
Setting Minute Blocks:
Teachers can teach that block for whatever amount of time they want in a day

Teachers have freedom to say how much time was spent on a subject

The system doesn't know if and when it is being taught

Minute Blocks are exempt from anything that is not a full day event