eSD GURU is both an analytics tool that presents real time data in meaningful ways to help drive instruction and policy and a dataflow automation tool that can share data with authorized third-party products. GURU can be tailored to meet your business and reporting needs from a single, personalized interface.
Define GURU System Administrators

The ability to access the GURU configuration menu is controlled within the eSchoolData main application.
Go to System.
Select Administration.
Choose Group Maintenance from the side menu.

Search for the GURU Admin group which consists of one Special Permission entitled GURU Admin. If the group does not exist, select New to create one.

Click the Edit icon to verify the GURU Admin Special Permissions is added to the group: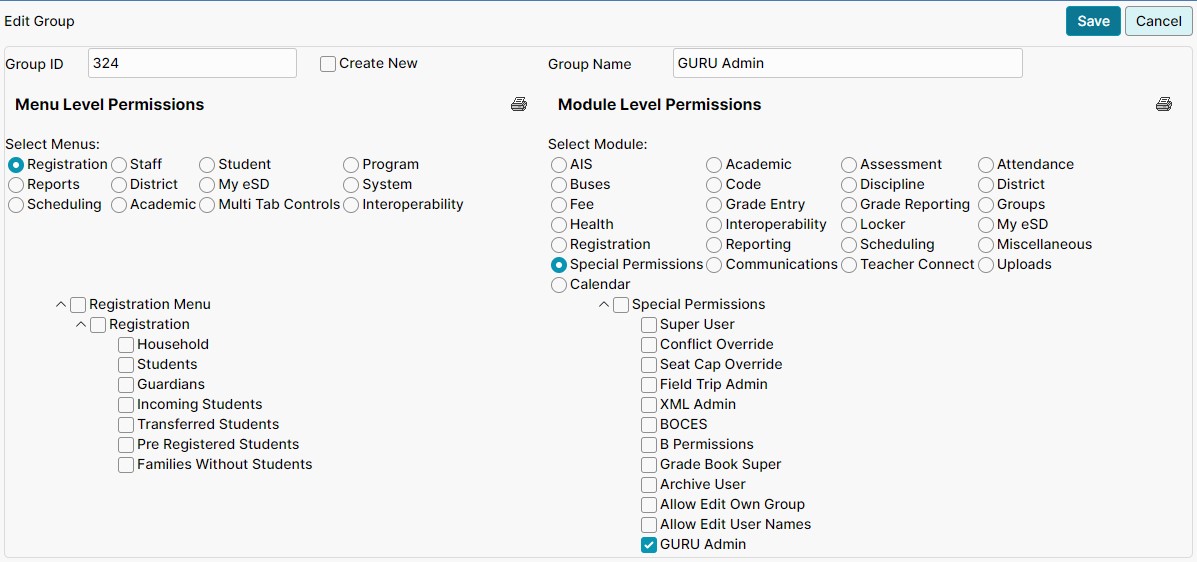 Installing Widgets
Select Marketplace from the GURU Menu, then select Install Widget to bring up a listing of all available widgets and descriptions. High School districts, or districts not utilizing standard-based grading within eSchoolData typically would not select standard-based grading widgets but should select the remaining widgets.
After selecting desired widgets, choose Next to advance to the next tab. The option to choose a color for the widget title bar and/or to change the name of the widget is available from this tab. Select Next, then Finish to complete the installation.
For more details, visit Pre-Built Export Zaps.
Defining Roles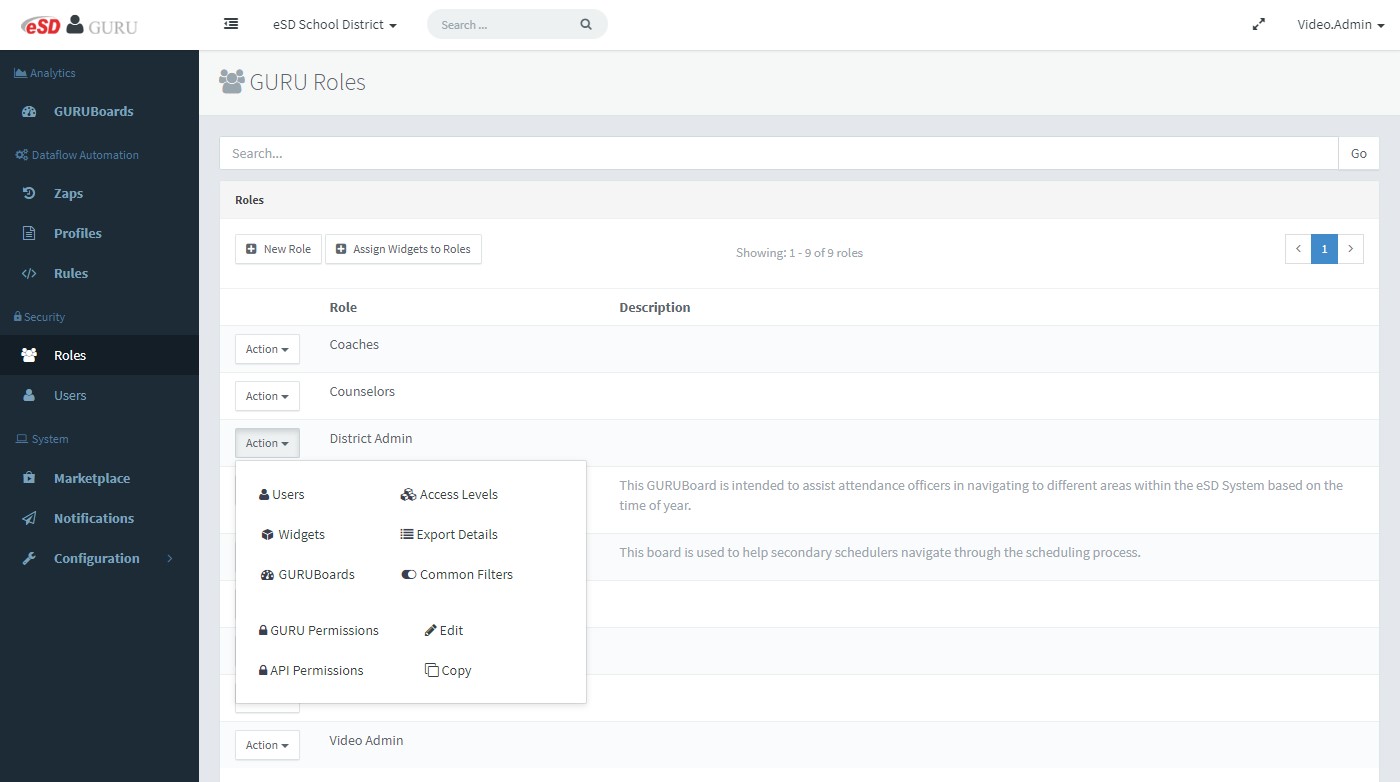 Within GURU, go to Roles.
By default, a District Admin role is already created. Select the arrow located to the right of the role name to open an action window.

The first seven options (Users, Access Levels, Widgets, Export Details, GURUBoards, Common Filters and GURU Permissions) must be defined for the District Admin role, as well as for each role that is subsequently added.
Users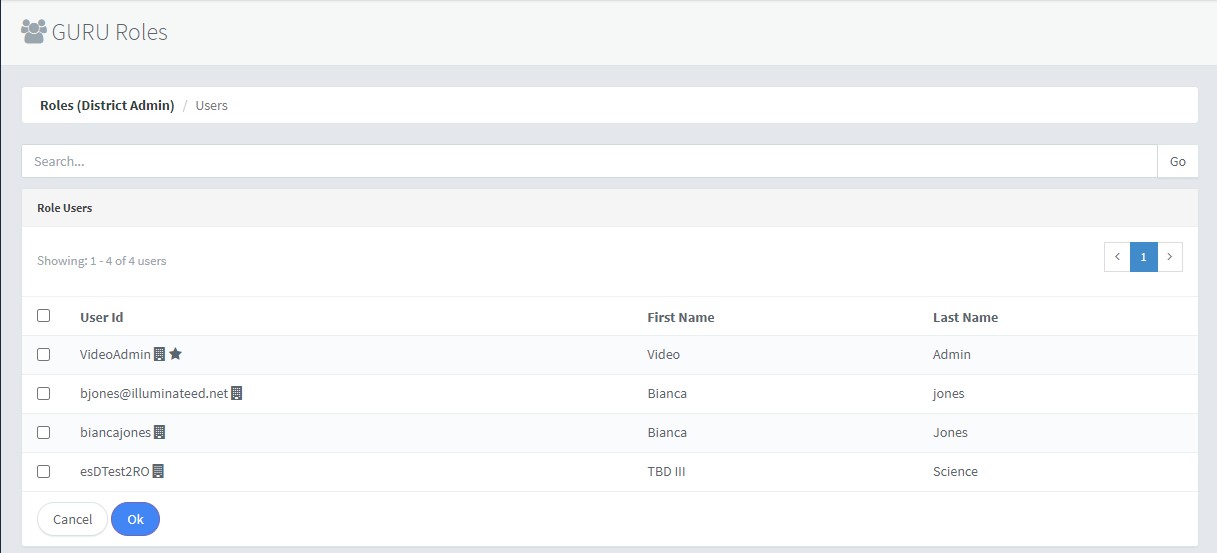 Select Users to access a list of eSchoolData accounts which are either defined at the district level or which have "school selection" assigned. Once selections are made, select OK to add the desired users to the District Admin role within GURU.
Access Levels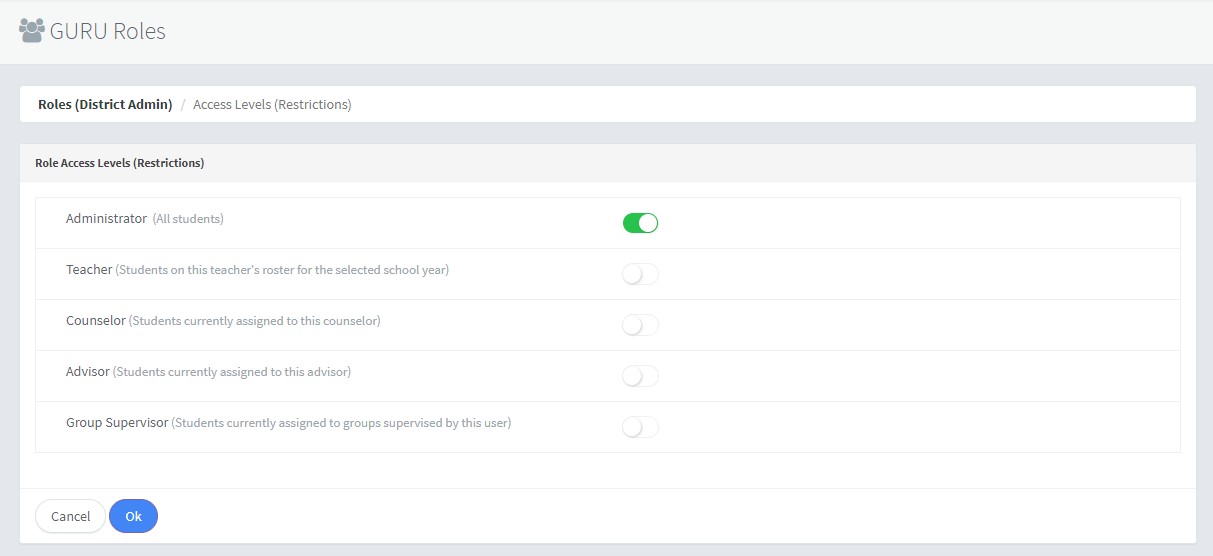 Select Access Levels to confirm viewing restrictions for the District Admin role. By default, this role has access to all students. As new roles are created, Teacher, Counselor, Advisor and Group Supervisor access levels are easily controlled.
Widgets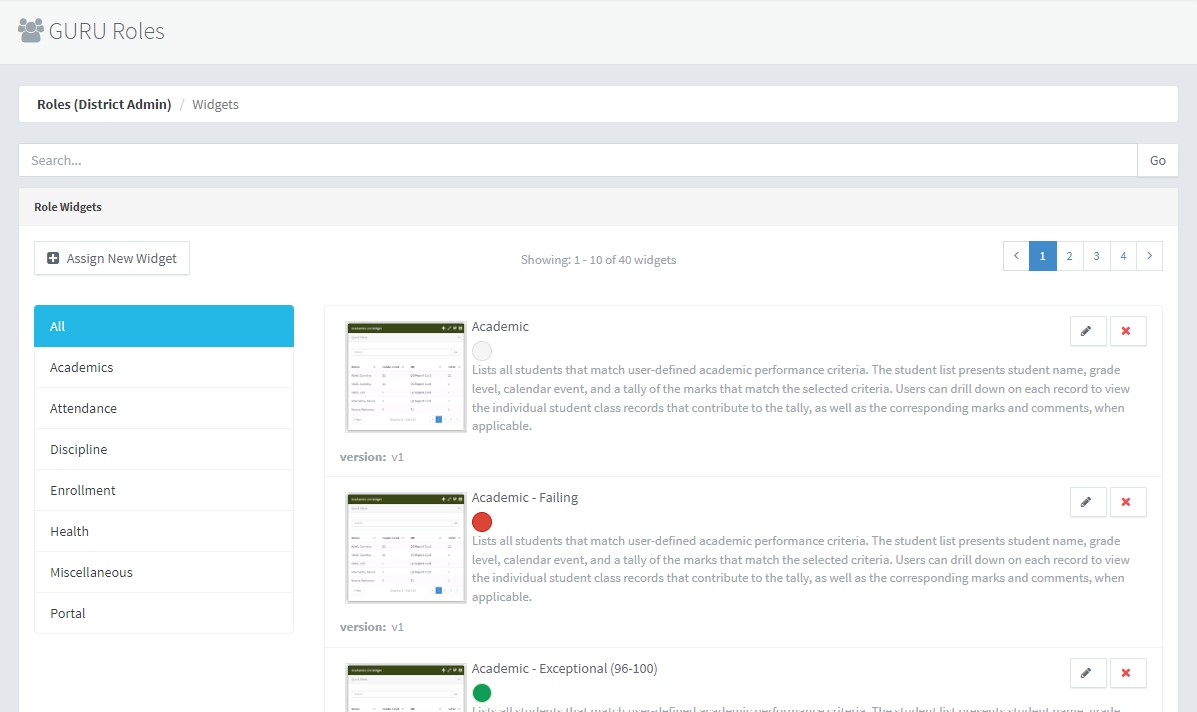 Select Widgets to view widgets currently assigned to the District Admin role. Select Assign New Widget to associate new widgets to this role.
Select the desired widgets, then Next, then Finish.
Export Details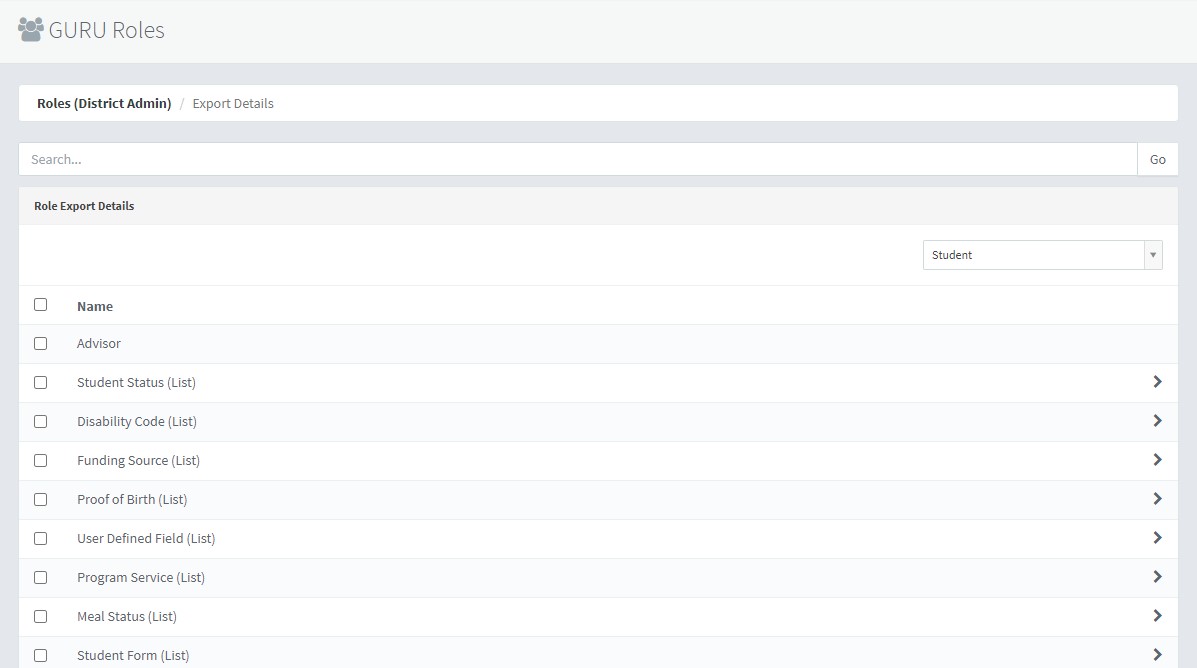 Select Export Details to view details included in an Export file when the "All fields" export option is chosen. Select (or deselect) export columns, then select OK.
GURUBoards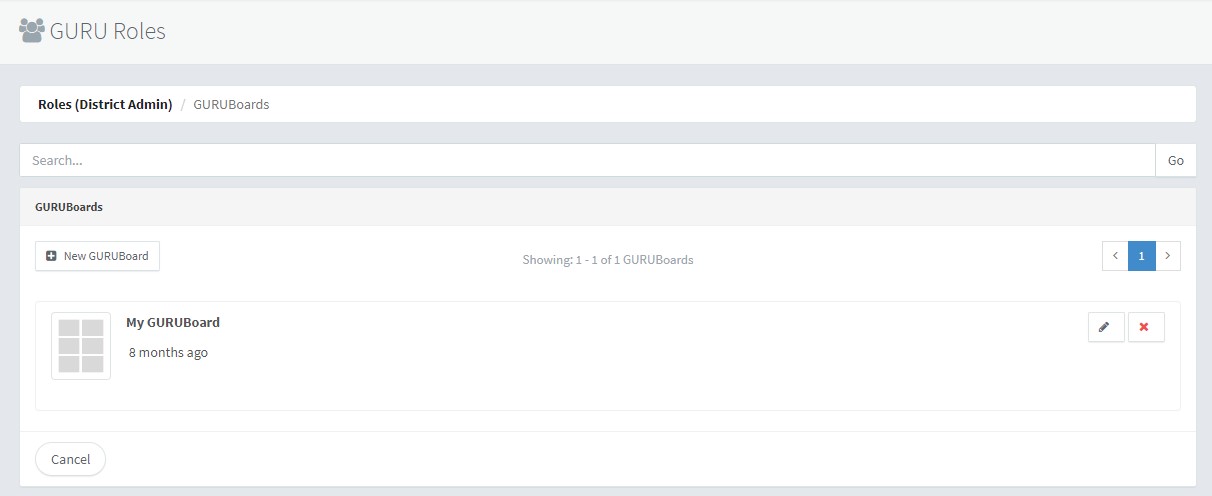 Select GURUBoards to configure default dashboards for the District Admin role.
Visit Add a GURUBoard to learn more.
Common Filters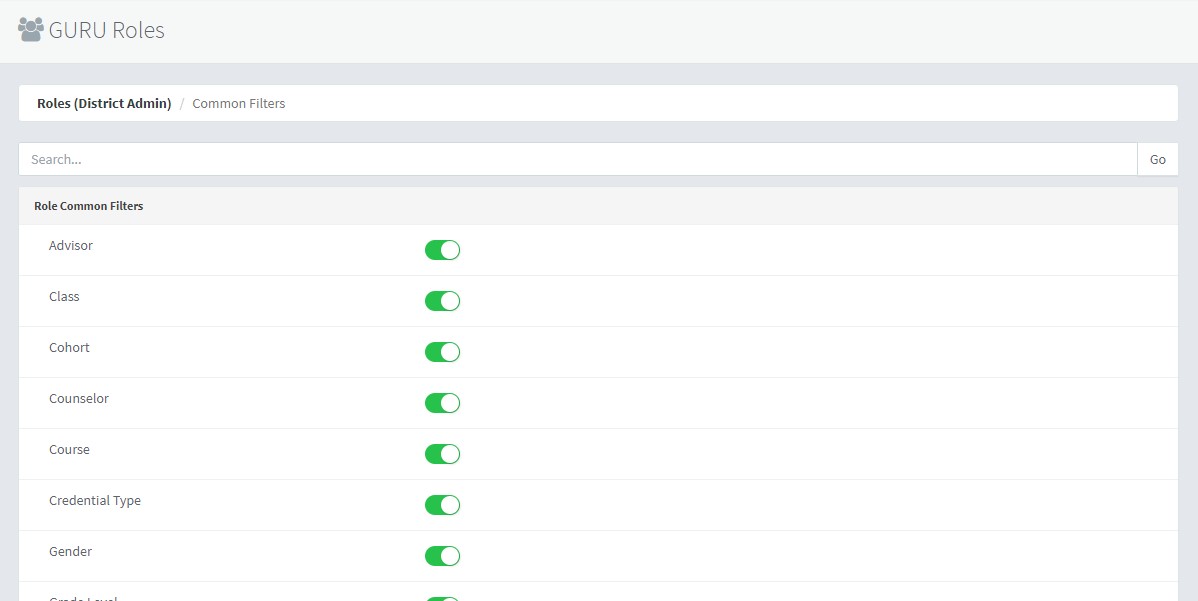 Select Common filters to review or modify filters available to the District Admin role. Select (or deselect) common filters, then select OK.
GURU Permissions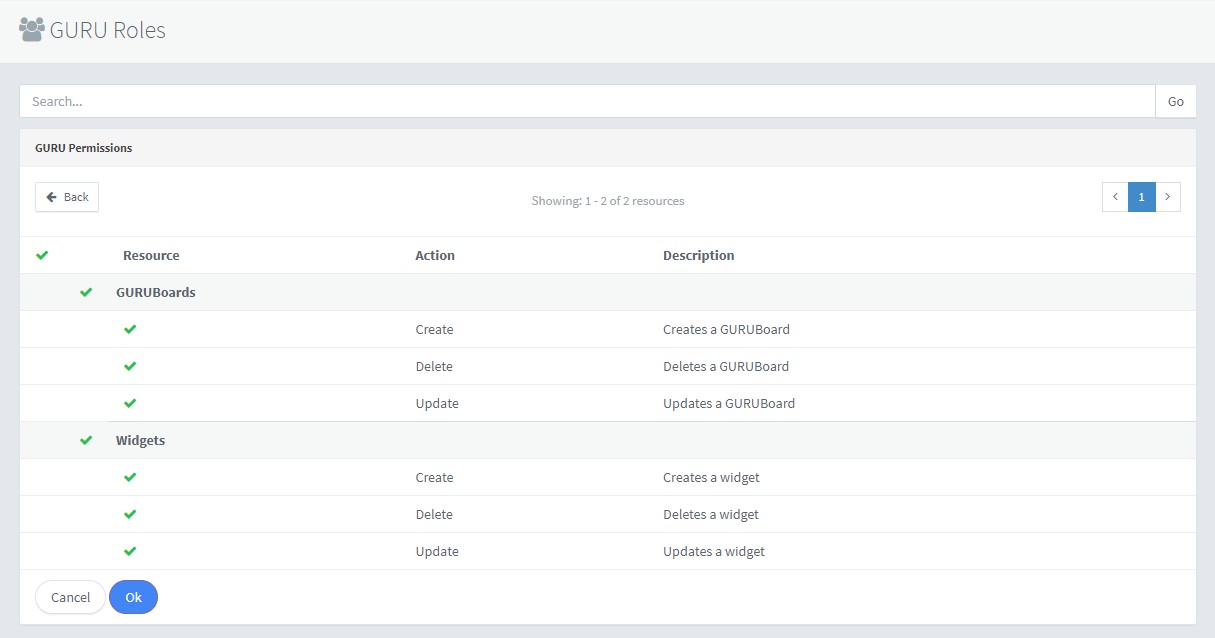 Select GURU Permissions to confirm that the District Admin group can create, delete and update GURUBoards and widgets. Select OK once GURU permissions are set.