Although districts are no longer required to report this information on a monthly basis, the AT-6 report allows schools to closely monitor attendance and enrollment details.
Required Permissions: Menu: Reports > Attendance > AT-6
Where to Start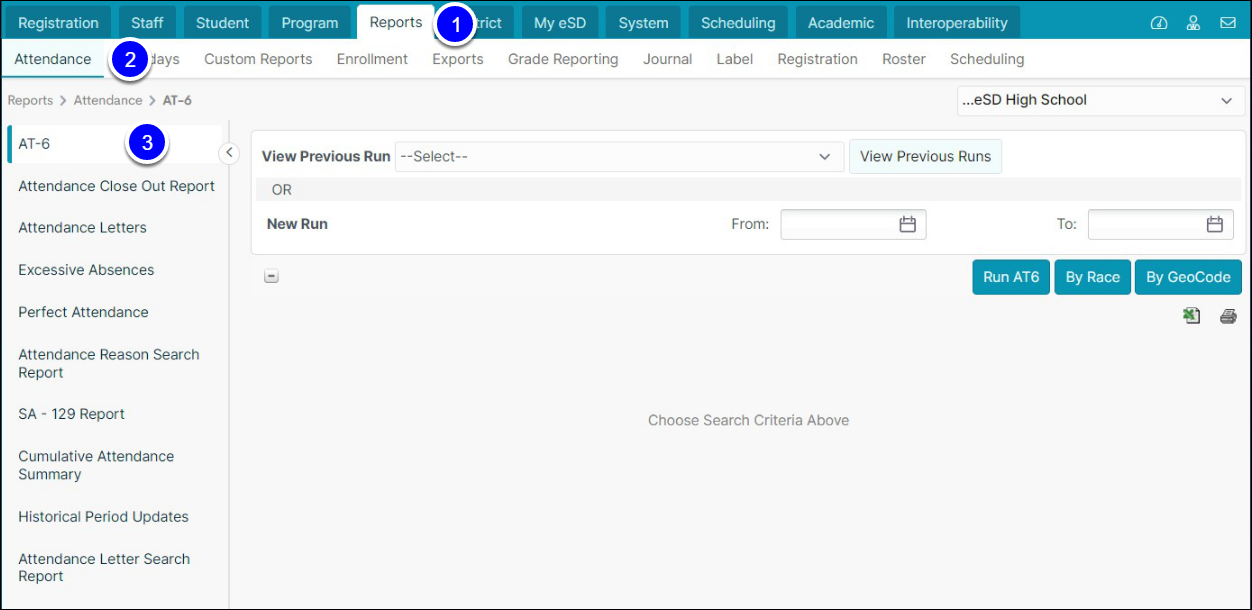 Go to Reports.
Choose Attendance.
The AT-6 report is selected by default.
How it Works

This report can be run for any date range and there is an option to

View Previous Runs

.

For a New Run, select a From and To date via the calendar icons.
Use Run AT6 to run the report comprehensively. Options are also available to view this report By Race

and

By GeoCode

.

The user can drill-down into the results to return a list of students contributing to each tally.
Closing Enrollment is determined by the following calculation:
Opening Enrollment + Pupils Added – Pupils Left – Dropouts = Closing Enrollment
Pupils Added and Pupils Left include students who change grade levels during the school year, as well as students who enter/leave the district.
Example: A student that starts in grade 11 but then moves to grade 12 mid-year will be counted in 'Pupils Left' for Grade 11, and in 'Pupils Added' for Grade 12.
The Exclude from State Attendance flag will exclude students from this report.