This report identifies students who have a specified number of attendance statuses (excused/unexcused/unknown absences and/or excused/unexcused/unknown tardies) within a specific calendar event or date range, depending on the chosen Report Type.
Required Permissions: Menu: Reports > Attendance > Excessive Absences
Where to Start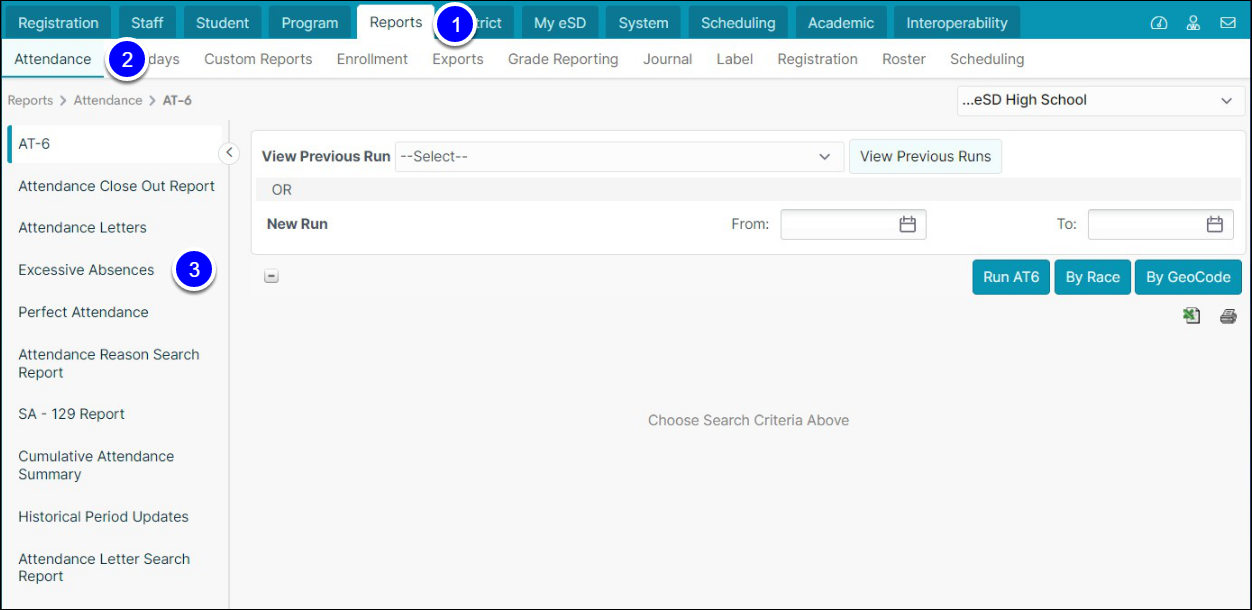 Go to Reports.
Choose Attendance.
Select Excessive Absences.
How it Works
The report can be run for previous years by selecting Calendar Events.
Or date ranges from a prior Scheduling Year.
Select Daily or Period Attendance to return a student's attendance totals broken down by attendance status.
Select Consecutive Days to limit results to consecutive attendance.
The report also has an option to Include Dual Enrollment, for accurate tallies when students take classes in buildings that are not their primary enrollment building. Attendance tallies for classes with multiple meeting times are based on preferences set on the School Information page.

Choose a Report Type:

Select Excessive Class Absence to search for absences by Calendar Event. The results separate each student's attendance by Class, with Class Details, Teacher, Counselor and Advisor names.

Select Student Excessive Absences to search for absences above a specified No. of Occurrences within a specified Date Range.

Select Search to generate the report.
Do not select Include Dual Enrollment when using the report to check BEDS counts for absences or suspensions.
The Excel export includes all the information visible on the screen, along with students' mailing addresses in a format that supports mail merge.*
When Multiple Meeting Times is not selected (District > Schools > School Information > School Settings), the report displays details for the main meeting time and displays combined meeting time attendance totals.*
The report includes students who were enrolled at any time during the selected school year, allowing the report to be used as a check of the BEDS counts for absences/suspensions.