The system allows the use of permission-based Truancy Alerts at the school level. Truancy Alert Jobs defines the criteria a student must meet before being flagged as Truant. Truancy Alert Jobs run automatically as part of the nightly Attendance Closeout.
Once a student is flagged as Truant (a student who stays away from school without leave or explanation), the icon will remain in place for the rest of the school year unless the original job is deleted, a new job is created and run, and the student no longer meets the criteria.
Required Permissions:
Menu Level: Student and Multi Tab Controls
Module Level: Attendance > Truancy Alert (Add, Edit, View, Delete and Run Truancy Job) and Student Level > View icon and select icon
Where to Start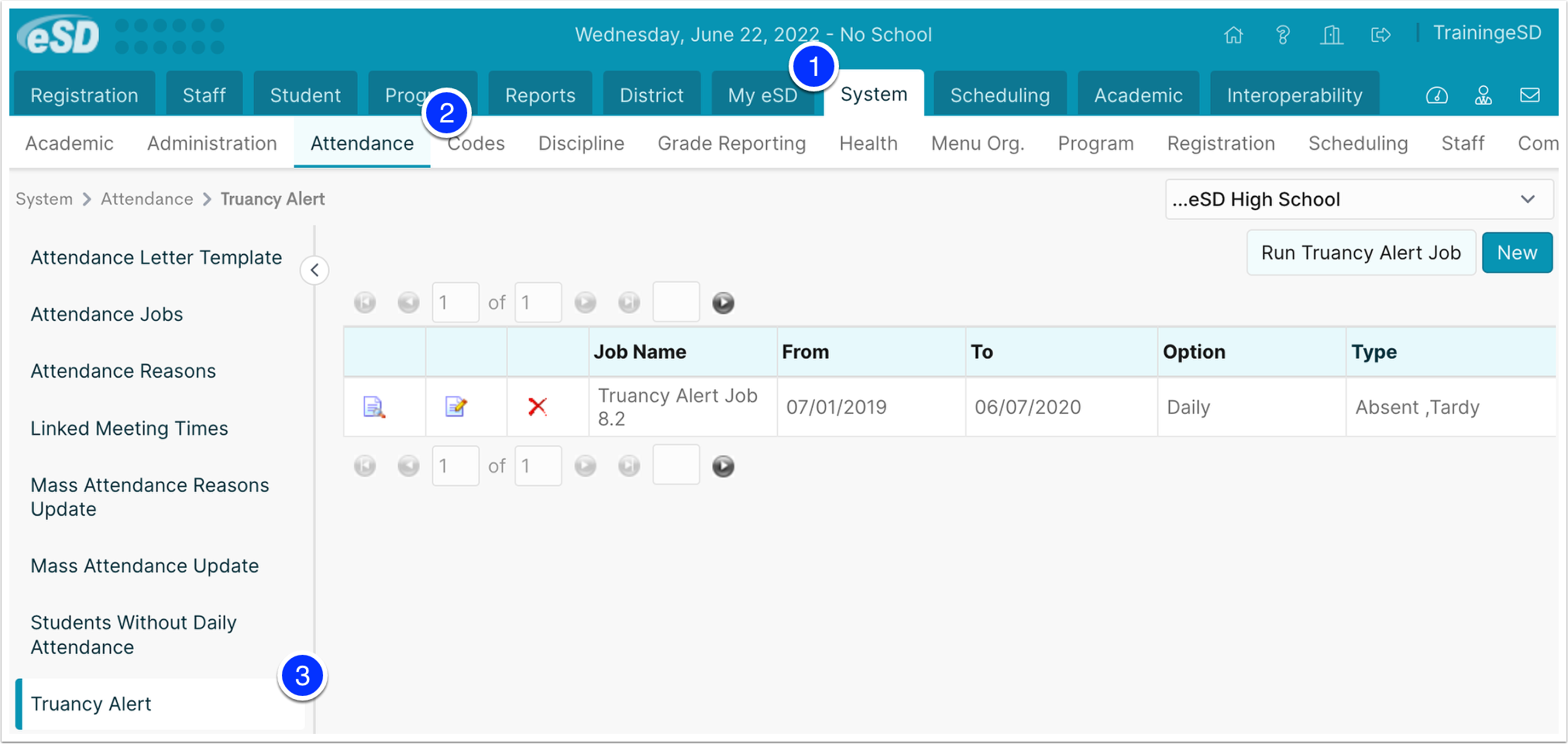 Select System.
Select Attendance.
Select Truancy Alert.
Truancy Alert Jobs
Users can View, Edit or Delete existing Truancy Alerts from this screen.
Select New to create a new Truancy Alert.
Enter all relevant information to create a new Truancy Alert (see below for field descriptions).
Name (expandable section) - Create a label for the Truancy Alert.
Date Range (expandable section) - The date range that is generally used is from the September start date to the June end date of the current school year. In some instances a school may wish to generate alerts by specific marking period/semester and choose to enter the date range relating to that specific event.
Attendance Options (expandable section) - Alerts can be generated for Daily and/or Period attendance.
Consecutive Days (expandable section) - Alerts can be generated for consecutive day absences/tardies when the Truancy Alert is set up for the Daily Attendance Option.
Include Status (expandable section) - Alerts can be generated for a status of Absent and/or Tardy.
Exclude Reasons (expandable section) - Identify reasons that will not be counted towards an alert. "Daily Present" reasons will not be excluded from the counter unless they are selected from this field.
Occurrences (expandable section) - Enter the number of occurrences that will generate an alert. The ability to enter a different occurrence for specific course types (such as for half year, quarter year, PE, or full year courses etc.) enables the alert to comply with a district's attendance policy. All occurrences must be created in ascending order (e.g. 0, 1, 2, 3).
Select Grades (expandable section) - Choose the grade levels to include in the Truancy Alert Job run. If no grade level is chosen, the alert will run for all grade levels by default.
When all information has been entered, select Save.
Select
Run
Truancy Alert Job
to update Truancy Alert flags before the nightly closeout.
Course types must be set at the course level in order for a truancy alert job to correctly identify relevant student attendance records.
Truancy Alerts
Users with the appropriate permissions can select the Truancy Alert icon

to open a student's Attendance Details from the following pages:
Attendance Profiles
Attendance Status by Date
Daily Attendance Status by Date
Student Attendance Events Report
Daily Attendance Reconciliation
Period Attendance Reconciliation
Next Steps
To learn more about attendance closeout, visit Attendance Closeout.