Attendance rosters can be printed from eSD individually or en masse. This functionality is useful for situations where the user is in an environment without internet or when a substitute teacher needs to take attendance and will not be granted access to eSD.
Required Permissions:
Menu: Staff > Staff Schedule Report
Reports > Roster > Mass Attendance Roster
Individual Attendance Rosters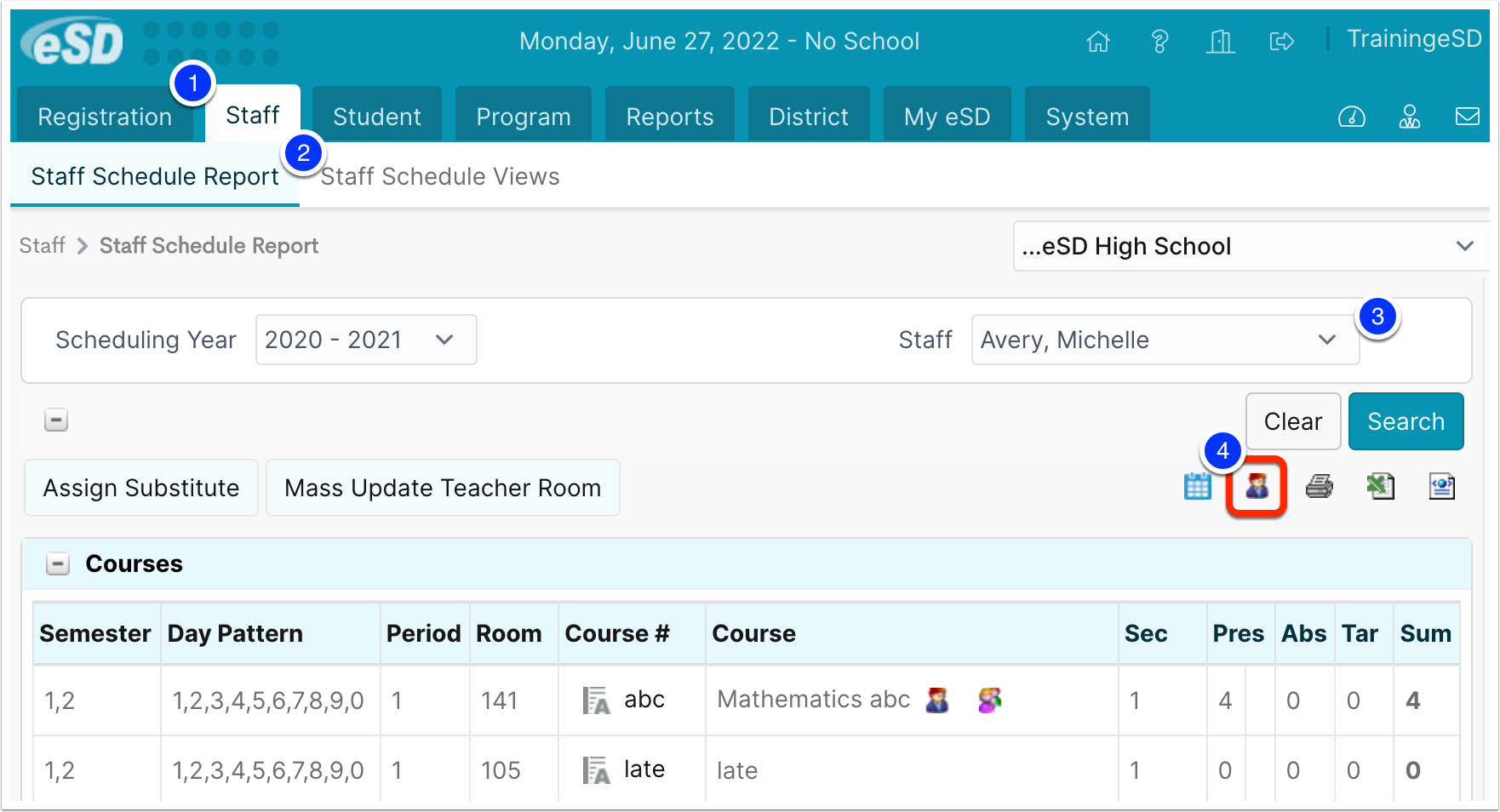 Select the Staff tab.
Open Staff Schedule Report.
Select the absent teacher from the Staff dropdown.
Select the Roster icon to open the Roster Report screen. This will enable the selection of the class(es) for which a Substitute Attendance Roster is needed.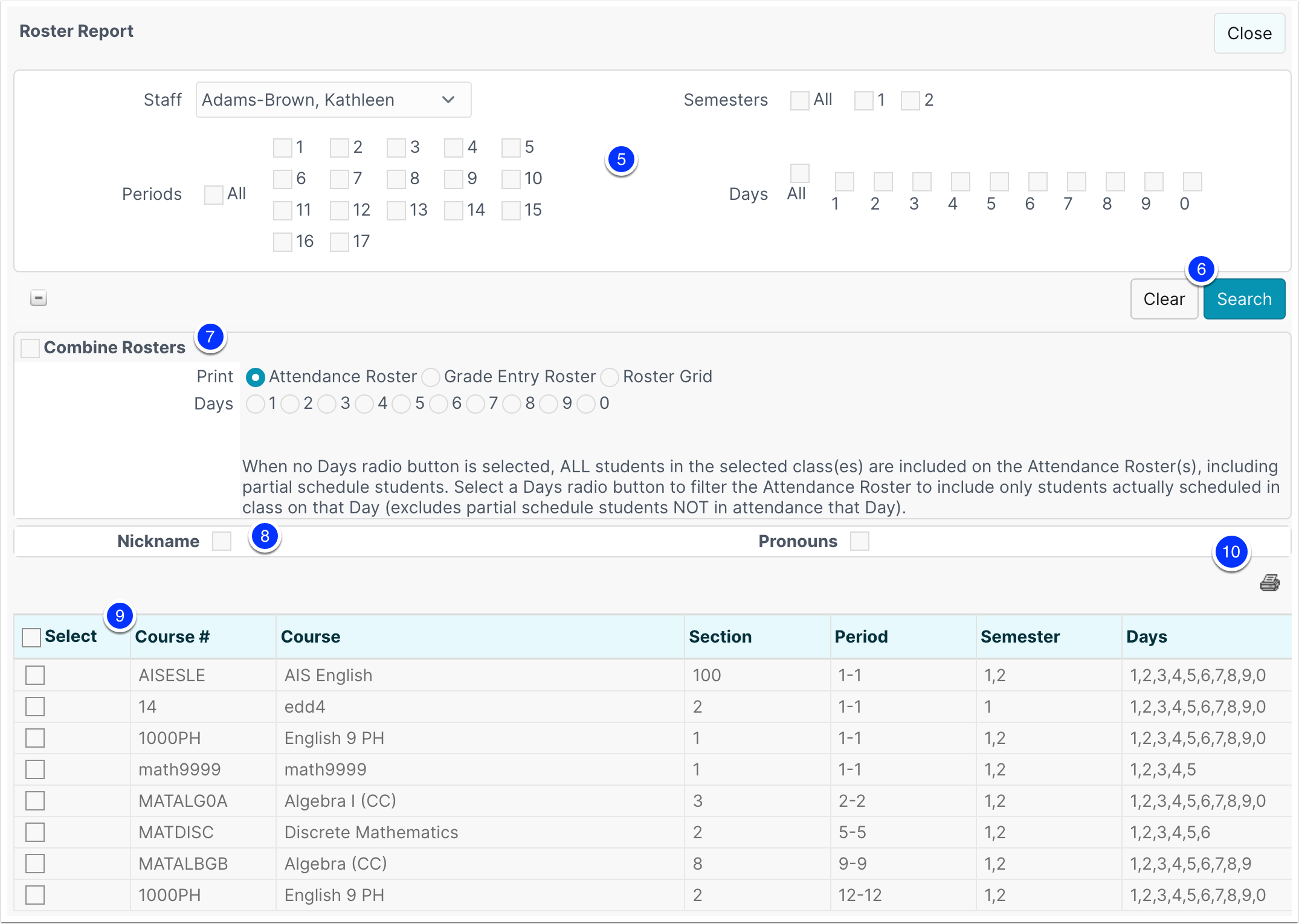 The Roster icon allows users to print Attendance Rosters, Grade Entry Rosters, and Roster Grids.
Filter the list of displayed courses and mini-courses by checking the desired Periods, Semesters and/or Days, then select Search.
If desired, check Combine Rosters to print the selected classes as one roster.
If desired, use the Days filter to exclude partially scheduled students who are not in class on the selected Day.
Use the Nickname and Pronouns check box if needed.
Check the Select box to select all displayed courses or check the box next to the individual courses needed.
When finished, select the Printer icon. A weekly attendance roster is produced for each course.
Use the Staff menu to select another teacher without returning to the Staff Schedule Report page.
Attendance Roster prints all selected classes, even if no students are enrolled. Grade Entry Roster and Roster Grid print only selected classes that have students enrolled.
Mass Attendance Roster

Select the Reports tab.
Open the Roster tab.
Select Mass Attendance Roster.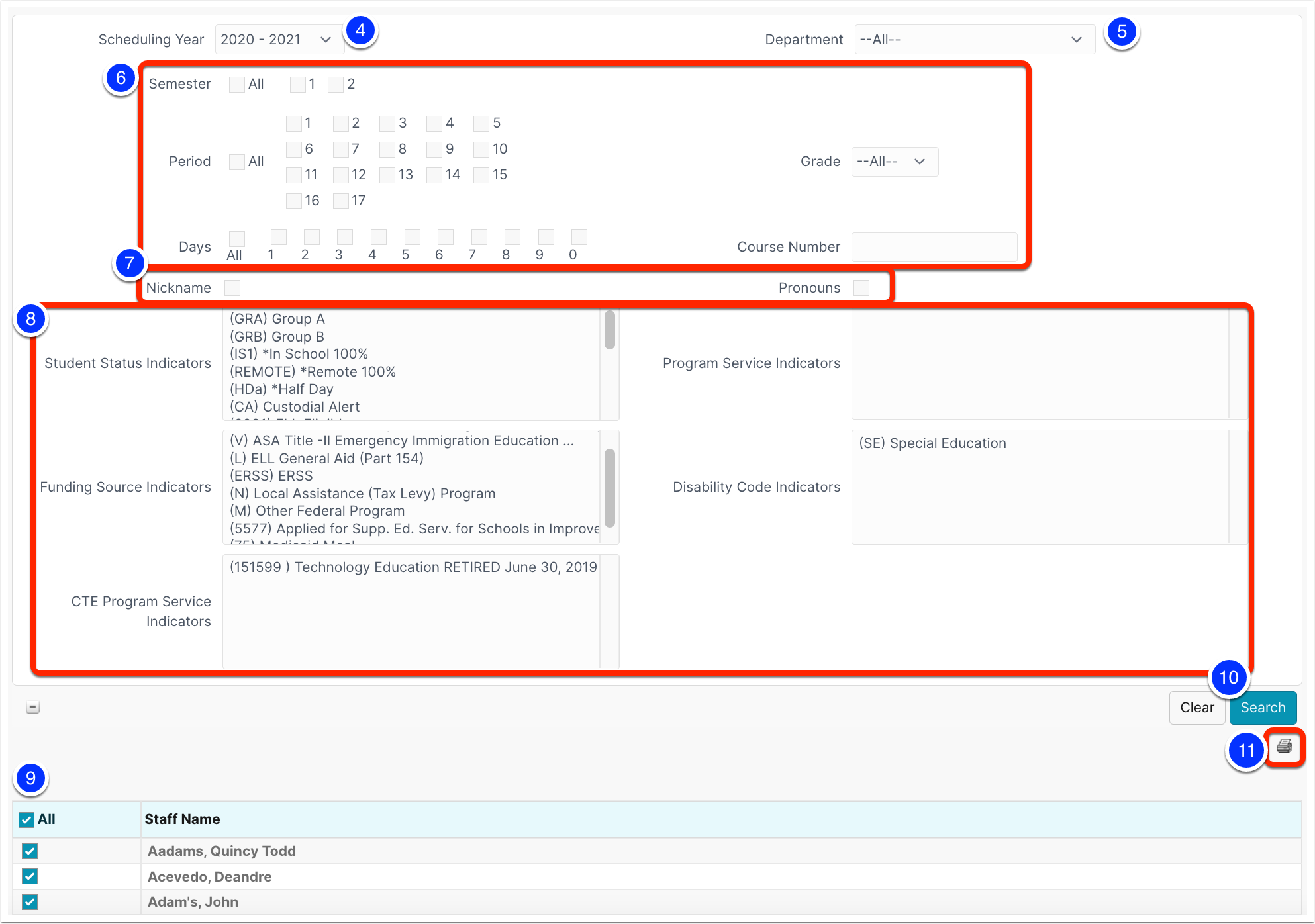 Select the applicable Scheduling Year.
Select the Department.
Select the Semester, Period, Days, Grade level, and/or Course Number to further define which attendance rosters are to be printed for the selected Staff.
Use the Nickname and Pronouns checkboxes to add them to the report.
Further filter staff by selecting indicators.
Uncheck All to deselect all staff, or uncheck the individual Staff Name(s) that should not be included.
Once the selections have been made, select search.
Use the Printer icon to print the attendance rosters.
When a single day is selected, the report displays the total number of students enrolled in that class for that day. When multiple days are selected, and students are partially scheduled for some of the days, this report shows a breakdown of attendance for each day selected.
Next Steps
To learn more about substitute teachers, visit Substitute Teacher Assignments.