This lesson guides users through doing Mass Summer School enrollment for in-district students.
Where to Start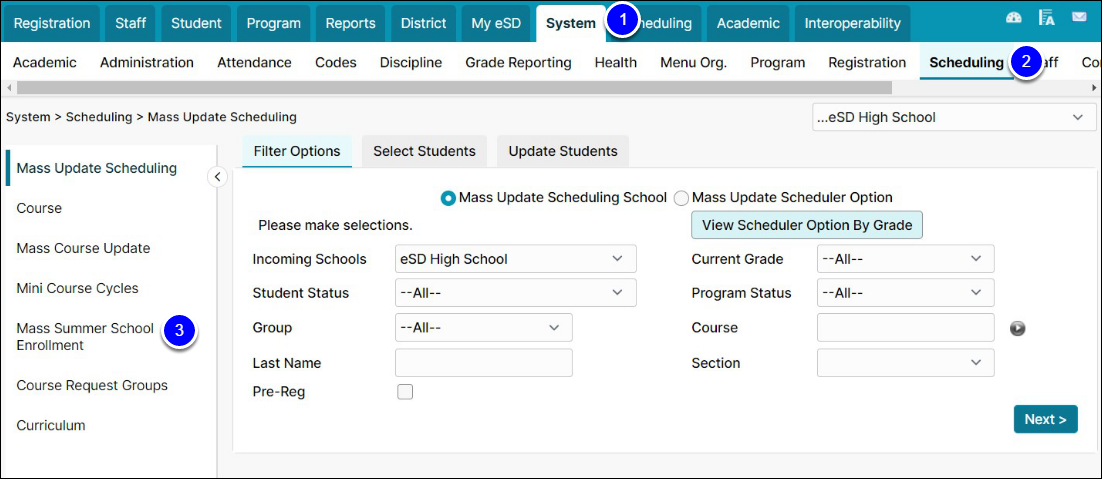 Go to System.
Select Scheduling.
Select Mass Summer School Enrollment from the left hand navigation menu.
Mass Summer School Enrollment

Be sure the School students are enrolled in is selected from the menu.
Use Filters are needed to narrow down the student selection.
Select Next >.
If the list of names was filtered using the "Summer School 20xx-xx" Status or Group, select the Move All button to move all students to the Selected Students field.

Use the Source Students menu to select students for Summer School. Selected Students will turn red in the Source Students menu and also appear in the Selected Students menu.
Select Next > after all needed students have been chosen.

Set a Scheduling School. This will be the Summer School.
Set a Scheduling Year.
Choose a Start Date.
Select Submit > to enroll the students.

A yellow banner appears at the top of the page to confirm that students were udpated with the summer school enrollment.